Greek special needs students celebrate their work with Australian Ambassador.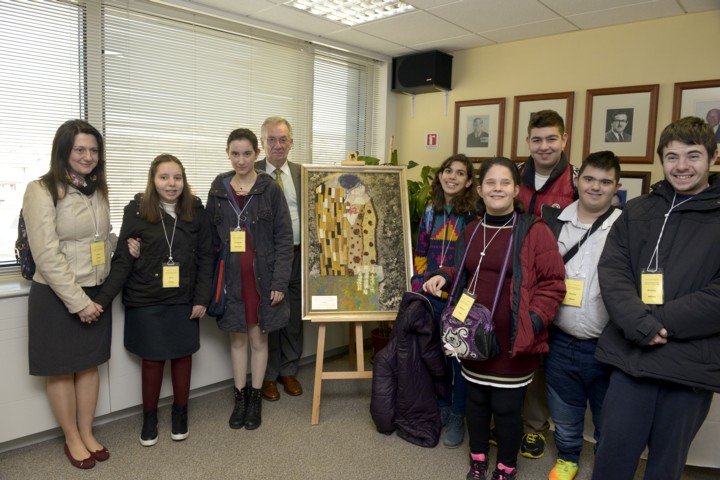 Students from the Agios Dimitrios Professional Education and Training School (E.E.E.E.K.) visited the Australian Embassy in Athens for a morning tea celebration to view the craft painting they had presented to Ambassador John Griffin.
The art work, based on Gustav Klimt's The Kiss, was a Christmas present to the Ambassador following an Embassy visit to the school in September last year.
The craft painting which has been framed and dedicated will be hung on display in the Embassy demonstrating the achievements of the school and its students.
Also participating in the morning tea were members of the Athens diplomatic community, organisations providing employment opportunities and other support for people with special needs, specialists and media representatives.
"This work has a special place in our heart as it was a project students were working on when my partner Pakapat Thipayaprapai and I were fortunate enough to visit the school last year," Mr Griffin said.
"An important role for us at the Australian Embassy is to highlight the work of organisations such as the Agios Dimitrios School that have a positive and lasting impact on our community and its citizens.
"Social inclusion is a basic human right in society. Everyone deserves that Australian fundamental value of a 'fair go'."
The Special Vocational Education Laboratory of Agios Dimitrios is a public vocational school in Athens.
The school trains 245 boys and girls aged 12 to 22 with special needs such as mental difficulties, autism, and various psychological issues.
Training is offered in four fields: pottery, gardening, carpentry, plumbing and cookery/pastry making. The students also attend lessons in Greek language, maths, social skills, art, music and computing. Students progress through different stages of development.
Beyond special education teachers, the school employs speech therapists, occupational therapists, physiotherapists, social workers, psychologists and nurses.
"I would like to thank the School again for this special gift.
It will serve as a reminder to us all of the valuable work being done in the community to ensure everyone receives a fair go. We should all be aware of and support this work," Mr Griffin said.
The school carries out its good work while operating on a very limited budget.
If you would like to become A 'Friend of the School' by providing in kind or financial sponsorship or market outlets for the school's projects please contact Ms Sivylla Kyriakopoulou on 2109422076 or email mail@eeeek-ag-dimitr.att.sch.gr
Media contact: Stuart McLennan