Welcome message

Australian Embassy in Athens on Facebook
Welcome to the website of the Australian Embassy in Greece. Here you will find information on how to contact us, advice on the range of consular services available to Australian citizens, and information on visa and citizenship arrangements. There are links to sites where you can obtain information about social security and pension payments, trade and investment advice, and find general information about Australia.

If you wish to learn more about Australian foreign and trade policy, or our bilateral relationships with Greece, Bulgaria and Romania, to which the Embassy is accredited, I encourage you to explore our Department of Foreign Affairs and Trade website: www.dfat.gov.au. If you are an Australian citizen planning to travel overseas I encourage you to check our website.
Announcements
The Australian Government will proceed with the Australian Marriage Law Postal Survey of all Australians on the Commonwealth Electoral Roll. Instructions on survey participation will be published on the Australian Bureau of Statistics (ABS) website.
Appointments required for Passport and Notarial Services
Clients requiring passport or notarial services at the Embassy in Athens are advised that they must first make an appointment here.
Clients requiring information about Australian citizenship or visas for Australia cannot make appointments to come to the Embassy and should instead visit http://www.border.gov.au/ .
Changes to Passport and Notarial Services fees
From 1 January 2017, the fees for notarial services will increase, following a recommendation from the Department of Foreign Affairs and Trade's Functional and Efficiency Review. Notarial service fees have not increased in 16 years.
The new fee schedule takes into account the annual rate of inflation in Australia since fees were last increased, the growing cost of delivering notarial services and rising demand.
Passport fees will increase on 1 January 2017 in line with annual CPI indexation and fee increases announced in the Government's 2016-17 Budget.
Please check the revised lists of fees for further details.
What's New
ANZAC Day Commemoration in Athens

The Australian Embassy in Athens hosted the annual Anzac Day commemoration on Tuesday 25 April at 11:00 am at the Phaleron Commonwealth War Cemetery.
Anzac Day is an important occasion to honour the sacrifice and courage of the original Anzacs and of all our servicemen and women who have given their lives in times of war.
The commemoration was attended by the Minister for National Defence of the Hellenic Republic, the Chief of the Hellenic National Defence General Staff and Ambassadors and Deputy Heads of Mission of 15 countries as well as students from both the St Lawrence College in Athens and the first junior High School of Voula.
The service was attended by more than 100 people, among them Australians and New Zealanders based in Greece and others who travelled from home to honour the courage and sacrifice of our servicemen and women.
Greek special needs students celebrate their work with Australian Ambassador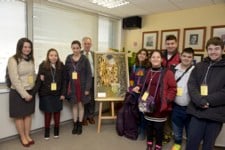 (Media Release in English) (Media Release in Greek)
INTERNATIONAL DAY OF THE GIRL CHILD 2016
Video transcript in English
Video transcript in Greek
Video transcript in Romanian
Video transcript in Bulgarian
17 Embassies support Athens Pride 2016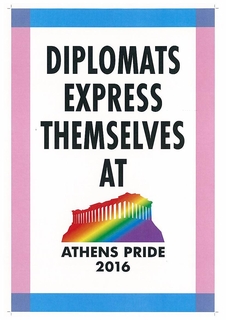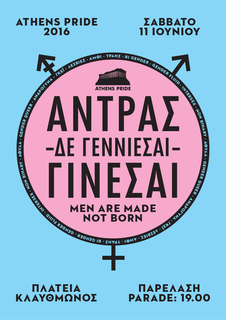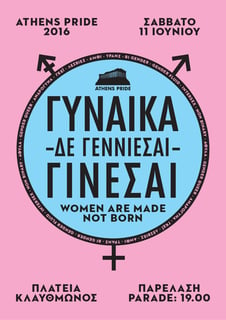 Diplomats support Athens Pride 2016
Diplomats from the Embassies of Australia, Brazil, Canada, Chile, Denmark, Finland, France, Germany, Ireland, Israel, the Netherlands, Norway, Slovenia, Sweden, Switzerland, the UK, and the USA in Greece will once again be expressing their support for the Athens Pride festival and parade on June 11, 2016 by taking part in the day-long event.
The theme of this year's Athens Pride "Women are Made Not Born/Men are Made Not Born" pays special attention to the challenges transgender people encounter. Our countries strongly support the rights of all LGBT people as part of our commitment to universal human rights.
Annual LGBT pride events take place around the world, usually in June. Pride events, along with the International Day Against Homophobia and Transphobia (IDAHOT) in May, serve to reaffirm the equality and dignity of all persons, regardless of their sexual orientation or gender identity.
Country Specific Travel Advice