Australian Embassy
Greece
Embassy address: Level 6, Thon Building, Cnr Kifisias & Alexandras Ave, Ambelokipi, Athens - Telephone: 210 870 4000 - Fax: 210 870 4111
Welcome message

Australian Embassy in Athens on Facebook
Welcome to the website of the Australian Embassy in Greece. Here you will find information on how to contact us, advice on the range of consular services available to Australian citizens, and information on visa and citizenship arrangements. There are links to sites where you can obtain information about social security and pension payments, trade and investment advice, and find general information about Australia.

If you wish to learn more about Australian foreign and trade policy, or our bilateral relationships with Greece, Bulgaria and Romania, to which the Embassy is accredited, I encourage you to explore our Department of Foreign Affairs and Trade website: www.dfat.gov.au. If you are an Australian citizen planning to travel overseas I encourage you to check our website.
Accreditation to Romania
Since 15 January 2014, the Australian Embassy in Athens is now formally accredited to Romania and has full responsibility for all aspects of the bilateral relationship including with respect to consular issues.
Enquiries from Australian nationals and residents in Romania should be directed to the Honorary Consulate in Bucharest, or the 24-hour consular emergency service in Canberra on +61-1300-555-135. Enquiries from nationals and residents of Albania should be directed to the Australian Embassy in Rome.
What's New
MH17 National Memorial Service
Transcript of The Prime Minister The Hon. Tony Abbott MP address to the MH17 National Memorial Service
Parliament House, Canberra
100th Anniversary Commemoration, Lone Pine, Gallipoli

On 6 August 2015 the Australian Government will conduct a commemorative service to mark the centenary of the August Offensive at the Lone Pine Cemetery on the Gallipoli peninsula in Turkey.
Visitors planning to attend the commemoration will need to register on the Gallipoli 2015 website at www.gallipoli2015.dva.gov.au.Visitors can also follow 'Gallipoli 2015' on Facebook or '@Gallipoli2015AU' on Twitter for updates.
Embassies "Take a Stand" to Support Athens Pride 2015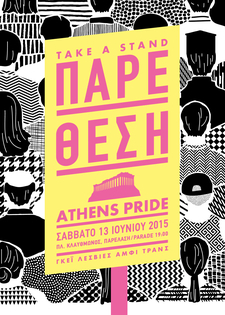 Athens – The Embassies of Australia, Canada, Denmark, Finland, France, Germany, Ireland, Israel, the Netherlands, Norway, Sweden, the UK, and the USA in Greece are supporting the Athens Pride festival and parade on June 13, 2015.
Our countries strongly support the rights of LGBT people, as part of our commitment to universal human rights. Events such as Athens Pride, whose theme this year is "Take a Stand," are part of international efforts to combat the violation of human rights based on sexual orientation and gender identity.
Annual LGBT pride events take place around the world, usually in June. The events mark the anniversary of the Stonewall uprising in New York City in 1969, widely seen as the birth of the movement to secure equality for LGBT people.
Donation of Australian literature books to School of Philosophy in Athens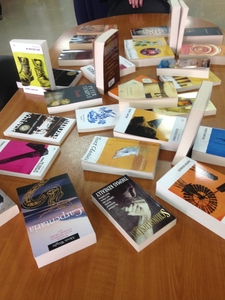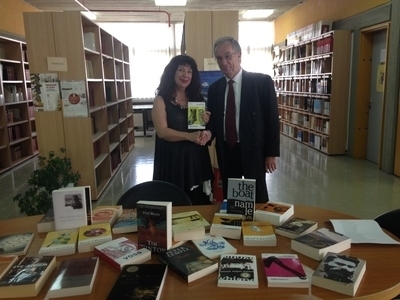 On 9 June 2015 the Australian Ambassador John Griffin visited the School of Philosophy of the National and Kapodistrian University of Athens and met with the school's Dean Ms Eleni Karamalegkou as well as Professors from the Department of English Language and Literature. The Embassy donated 33 Australian modern and classic novels to the Department's library.
Ambassador visits Thessaloniki, Thrace and Bulgaria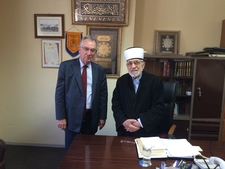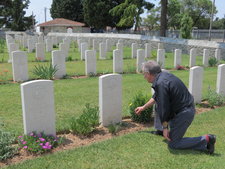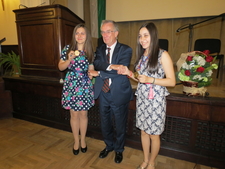 During the week of 31 May – 6 June Australian Ambassador John Griffin travelled to Thessaloniki where he opened the 15th Greek Australian International Legal & Medical Conference. While in Thessaloniki, the Ambassador visited the British Military Cemetery in Kalamaria and laid a flower on the grave of Sister Getrude Munro, Australian Army Nursing Service, who died in 1918 in Thessaloniki. He then went on to visit Kavala, Komotini and Xanthi, where he met local officials and community representatives, as well as Thrylorio village, which was founded in 1922-1923 by Australian George Devine Treloar, League of Nations Commissioner for Refugees. Ambassador Griffin also visited the First Reception Centre at Orestiada.
Following his visit to Thrace, Ambassador Griffin travelled to Sofia to award medals to three female recipients of the annual Australian Mathematics Competition and to present the acclaimed Australian film The Turning (2013), which was screened in the Sofia Cinema House on 5 June to an audience of 130 people.
Country Specific Travel Advice