COVID-19 Notice
Embassy services
The Australian Embassy in Athens remains open for appointments. We are monitoring the COVID-19 pandemic, actively following the latest medical advice and official reports issued by the Greek authorities. During this constantly evolving situation, the safety of Australian citizens, and our Client Services and Embassy team remains our highest priority. We ask that you stay up to date with the measures being implemented across Greece, Bulgaria and Romania, and most importantly, follow the advice of local authorities.
We remain committed to providing you with the very best service possible in the current circumstances. For more information on COVID-19 and returning to Australia go to International travel (australia.gov.au) or Smartraveller - Trying to Get Home
Visiting the Embassy in Athens
From Monday, 8 November, in accordance with measures gazetted by the Greek Government, you will be asked to present either a vaccination or recovery certificate, or negative rapid or PCR laboratory test with a QR code. Rapid or PCR tests must be taken no more than two (2) days before your appointment date.
We will accept digital or printed copies of the documents and will use the COVID Free GR or the Australian VDS checker app to confirm its validity. The apps do not store or transmit any personal or identifying information and can validate EU, UK and Australian issued certificates.
You will need to show identification that matches the name on the presented COVID-19 document. We are aware that the name on your COVID-19 document may not be issued in the name that appears on your Australian passport or other identification. If the names are different, you will need to present an ID card or passport that has the same name as your COVID-19 document.
Face masks are also mandatory for all visitors entering the Embassy. You will be required to have your face mask on before you enter the building and while you are in all common areas, including the elevators.
For Australians in Bulgaria & Romania
Our Honorary Consuls in Bulgaria (Sofia) and Romania (Bucharest) may only be able to offer limited assistance.
If you need urgent consular or passport assistance please phone the Embassy in Athens directly on +302108704000. This number is open for calls 24 hours, 7 days a week to ensure you are assisted. Please note that between 4pm and 8am (Central European time) there may be additional waiting times when the number is redirected to our call centre in Canberra.
Welcome Message

Australian Embassy in Greece on Facebook

Australian Ambassador to Greece on Twitter

Australian Embassy in Greece on Instagram
Welcome to the website of the Australian Embassy in Greece.
Here you will find information on how to contact us, advice on the range of consular services available to Australian citizens, and information on visa and citizenship arrangements. There are links to sites where you can obtain information about social security and pension payments, trade and investment advice, and find general information about Australia. To learn more about Australian foreign and trade policy, or our bilateral relationships with Greece, Bulgaria and Romania, to which the Embassy is accredited, you can explore the Department of Foreign Affairs and Trade website: www.dfat.gov.au. If you are an Australian citizen planning to travel overseas, check out the Smartraveller website.
Appointments for Passport and Notarial Services
If you need a passport or notarial service (such as witnessing a document) at the Embassy in Athens you must make an appointment here. The list of fees can be found here.
Visa, Citizenship or Customs enquiries
The Embassy is unable to provide assistance with citizenhsip and visa enquiries. For more information visit the Home Affairs website. To speak with an officer from the Department of Home Affairs, you will need to call the Global Service Centre (GSC) +61 2 6196 0196 from 9am - 5pm local time on weekdays.
What's New
LAUNCH OF INSTAGRAM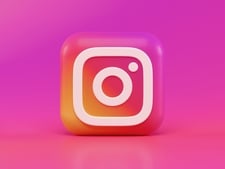 We're spreading our wings a bit wider into the world of social media and joining 📸 #Instagram! Press that 'follow' button and help us share the news!
IG/ausembgr
https://www.instagram.com/ausembgr/?hl=en
RECOGNITION OF AUSTRALIAN DRIVER LICENCES IN GREECE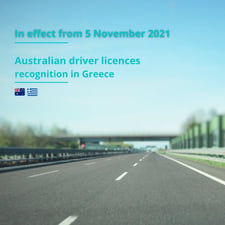 As of 5 November 2021, Australian driver licences are recognised in Greece. Individuals who hold a valid Australian driver licence no longer need to also have an International Driving Permit to be able to drive in Greece. A measure that will greatly benefit thousands of Australians living in or visiting Greece annually.
The Greek law stating the recognition of Australian driver licences is Law 4850, Article 25, Para 3, published in Greek Government Gazette A 208 – 05.11.2021.
MESSAGE FROM THE PRIME MINISTER (in Greek)
80th ANNIVERSARY OF THE BATTLE OF CRETE
It has been said "we cannot live in the past, the past lives in us". As the world faces a once-in-a-century pandemic, this is a time when the Greek people can draw strength from their rich history.
This past month has marked the bicentenary of the Greek War of Independence –– a bicentenary that we recognised in our Australian Parliament, as well as recognised the contribution of Australians with Greek heritage to our national life.
Today, you commemorate another significant anniversary –– the 80th anniversary of the Battle of Crete.
Australians remember that battle and those times. We too draw strength from the courage, determination and example of those who have done so much for the cause of freedom.
As the last Royal Navy vessels evacuated troops from Crete on 1 June 1941, those Allied troops who remained bowed their heads in sorrow. But, in their despair, they cleaved to two certainties –– the rightness of their cause; and the generosity, courage, and loyalty of the men and women of Crete.
They placed their trust in the brave and stoic Cretans who fought alongside them in the bloody conflict of the preceding 12 days.
In the aftermath of a battle fought with honour, and conceded without disgrace, a deep friendship was forged. The record of the days and weeks that followed is a chapter of bravery and selflessness that has bound Australia to Crete ever after.
In villages and farms, on beaches and in caves, the people of Crete –– who had so little of their own –– fed and nursed, sheltered, and led to safety those Allied troops who were left behind. Their selflessness and courage saved lives and inspired others to resist the invading forces.
Since the end of the Second World War, Australian veterans and their descendants have travelled to Greece each year for this anniversary. To join with the living and honour the dead who rest in peace at Suda Bay.
In 2021, those reunions are out of reach. But, the painful separation of a global pandemic has endowed togetherness with new meaning. The strength of our friendship is not bound by time or distance.
In the theatre of war, the people of Greece and Australia were united in a quest for peace. As they confronted tyranny together, they upheld the principals of justice and liberty so beloved by both our nations.
On this anniversary, we reflect on the spirit of sacrifice and shared humanity enacted on Crete in 1941. We rejoice in our enduring friendship, nurtured by ties of blood and fostered by mutual respect. As we stood together in war, so we stand together in peace – our eyes fixed firmly on a future shaped by the valour of the past.
The Hon Scott Morrison MP
Prime Minister of Australia
April 2021
BATTLE OF CRETE COMMEMORATIONS - CRETE, 15-24 MAY 2021
From 15 to 24 May 2021, the 80th anniversary of the Battle of Crete will be marked with a series of commemorative services and events in Rethymno and Chania organised by the local authorities in Crete. The Australian Embassy will be there to pay tribute to the Australian service men and women who helped defend Crete during WWII and to honour the bonds of friendship between Australians and Greeks that were forged in the cauldron of war. While the events will be held in a COVID-wise format and attendees will be required to practice physical distancing, large gatherings still present a risk. We therefore encourage Australians in Greece who wish to mark the Battle of Crete to do so safely.
See the program of events here.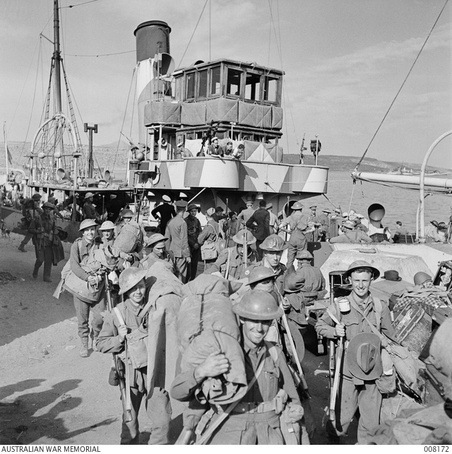 Photo credit: Australian and other Empire troops evacuated from mainland Greece arrive at Souda Bay, Crete, some with their kits, in April 1941. They were lucky, as most landed without, for kits had to be abandoned or destroyed in many cases. (Australian War Memorial 008172; photographer George Silk)
International Day against Homophobia, Biphobia and Transphobia – Joint Statement by Embassies in Romania
The Australian Embassy proudly joins in with Embassies in Romania in declaring its support for LGBTIQ persons. Read the Joint Statement on the occasion of the IDAHOBIT Day: International Day against Homophobia, Biphobia and Transphobia*
Bucharest, 17 May 2021 - On the occasion of the International Day against Homophobia, Biphobia and Transphobia, we express our solidarity with all persons who are discriminated against on the basis of their sexual orientation, gender identity or expression and sex characteristics.
LGBTIQ persons and families continue to face discrimination, violence and stigmatization all around the world. Our countries seek to combat such discrimination by promoting equal human rights for everyone. This respect for human rights and fundamental freedoms obliges governments to protect all citizens from violence and discrimination and to ensure that all people enjoy equal treatment and equal opportunities.
Protecting the welfare of LGBTIQ persons and families is key to ensuring that the full human rights of all our citizens are protected. We believe that only when the diversity of its citizens is appreciated, supported and protected can a country achieve its full potential.
The current COVID-19 pandemic does not allow groups or individuals to gather for festivals and marches, but we reaffirm on this day our full support for the peaceful fight for the cessation of all forms of discrimination and violence, including on the basis of sexual orientation, gender identity or expression and sex characteristics.
* The joint statement is issued by the embassies of: Australia, Austria, Belgium, Canada, Croatia, Czech Republic, Denmark, Finland, France, Germany, Ireland, Israel, Italy, Luxembourg, Netherlands, New Zealand, Norway, Portugal, Spain, Slovenia, Sweden, Switzerland, United Kingdom, United States, Uruguay and the European Commission Representation in Romania.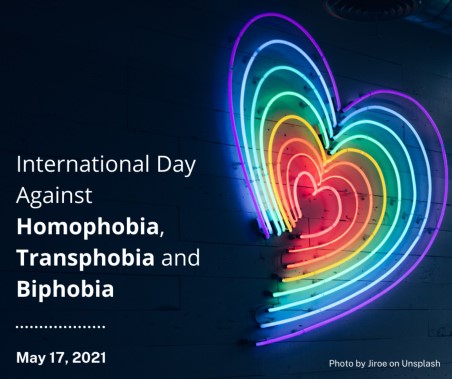 Declarație comună cu ocazia Zilei internaționale împotriva Homofobiei, Bifobiei și Transfobiei *
București, 17 mai 2021 - Cu ocazia Zilei Internaționale împotriva Homofobiei, Bifobiei și Transfobiei, ne exprimăm solidaritatea cu toate persoanele discriminate pe criterii de orientarea sexuală, identității sau expresiei de gen și caracteristicilor sexuale.
Persoanele și familiile LGBTIQ se confruntă în continuare cu acte de discriminare, violență și stigmatizare în întreaga lume. Țările noastre încearcă să combată astfel de acte prin promovarea drepturilor omului pentru toată lumea. Respectul pentru drepturile omului pentru libertățile fundamentale obligă guvernele să protejeze toți cetățenii de violență și discriminare și să se asigure că toți oamenii se bucură de tratament și de șanse egale.
Protejarea bunăstării persoanelor și familiilor LGBTIQ este esențială pentru asigurarea protejării drepturilor omului ale tuturor cetățenilor noștri. Avem convingerea că o țară poate să-ṣi atingă întregul potențial numai atunci când diversitatea cetățenilor este apreciată, susținută și protejată.
Actuala pandemie COVID-19 nu permite grupurilor sau persoanelor să participe la festivaluri și marșuri, însă ne reafirmăm în această zi susținerea deplină pentru lupta pașnică în vederea încetării tuturor formelor de discriminare și violență, inclusiv pe criterii de orientare sexuală , identitate sau expresie de gen și caracteristici sexuale.
* Declarația comună este semnată de următoarele ambasadele şi reprezentanțe ale unor instituții internaționale: Australia, Austria, Belgia, Canada, Croația, Cehia, Danemarca, Elveția, Finlanda, Franța, Germania, Irlanda, Israel, Italia, Luxemburg, Marea Britanie, Norvegia, Noua Zeelandă, Olanda, Portugalia, Slovenia, Spania, Suedia, Statele Unite, Uruguay și Reprezentanța Comisiei Europene în România.
ANZAC DAY Commemorations 2021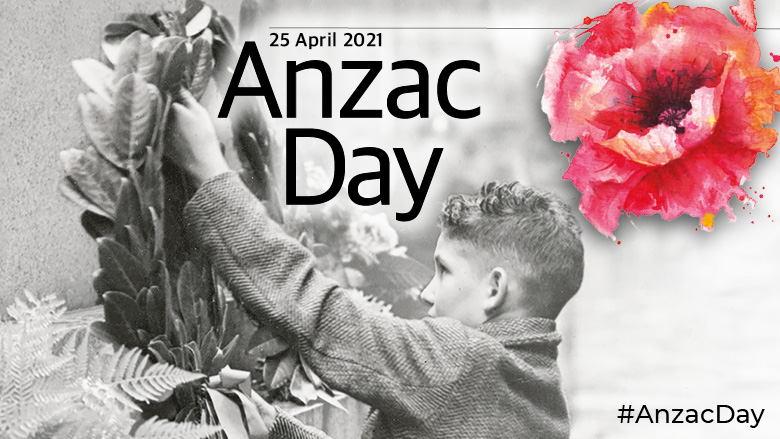 ANZAC Day is one of Australia's most important national days – a time for Australians to remember the fallen. At its heart, ANZAC Day is a time of personal reflection where we demonstrate our solemn respect for those who have served, and those who continue to serve in our nation.
Sadly, the Australian Embassy in Athens can't host its own ANZAC Day event this year. In line with advice that large gatherings still present an unacceptable risk, Ambassador Arthur Spyrou will privately lay a wreath at the Unknown Soldier Memorial and at the Phaleron Cemetery to honour the men and women who have served our nation in all wars, conflicts, and peacekeeping operations.
While there will be no public ANZAC Day Commemorative Service, we encourage you to continue to observe the ANZAC Day tradition from home by coming together in spirit to remember the courage, service, and sacrifices of our veterans and service personnel. You can also watch the Dawn Service and National Ceremony via live streaming from Australia's national capital. For further information on the live streaming, please refer to the Australian War Memorial website (www.awm.gov.au/commemoration/anzac-day) or follow the Department of Veterans' Affairs social media (https://www.facebook.com/DVAAus and https://twitter.com/DVAAus).
Lest We Forget.
Greek Independence Day 2021
Work and Holiday arrangement between Australia and Greece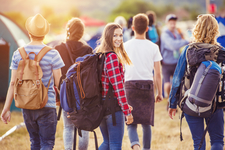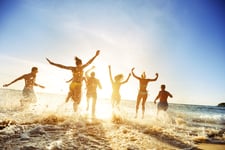 A new Work and Holiday arrangement with Greece came into effect on 1 July 2019, allowing more young people to explore, work and study in Australia. Young adults from Greece can apply for a subclass 462 Work and Holiday visa from this date.
Applications must be lodged online via ImmiAccount. Information about the subclass 462 Work and Holiday visa, and how to apply, can be found at https://immi.homeaffairs.gov.au/visas/getting-a-visa/visa-listing/work-holiday-462/first-work-holiday-462
All applications must include a Letter of Support from the Greek Government as well as evidence of meeting the English language, education, and financial requirements.
The Visa Application Charge must be paid at the time of lodgement.
The Australia-Greece Work and Holiday program has 500 places per program year (1 July to 30 June). Once 500 visas have been granted to Greek citizens, you will not be able to lodge an application until 1 July the following year.
Important information, including updates on when programs are complete, is available on the Australian Embassy Berlin website at http://germany.embassy.gov.au/beln/Visas_and_Migration.html.